Course details
Autumn banquet ★ Mon - Thu Limited ★ 【Hokkaido trial course】 Popular dish in season [All 7 items] ◆ 2 hours with all you can drink 2980 yen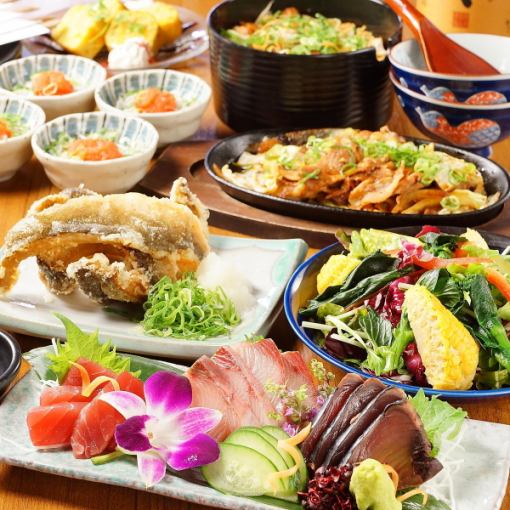 All-you-can-drink available

LO 30 minutes ago / glass exchange system
Reservation deadline

Until 17 o'clock on the desired shopping day
Available days for reservation

Monday - Thursday
★ Monday to Thurs Limited ★ Welcome Party · Farewell Party, Banquet · Drinking Party! All seven courses ♪ 2 such as "Duck Cold Steamed Loose" and "Hokkaido Salmon Salt Salt" and "Bonito Tataki Ginger Soy Sauce" All-you-can-drink all-you-can-eat ※ All-you-can-drink L.O 30 minutes ago * Fri, Sat, Sunday, the day before the holiday, no holidays available
Course menu
◆ ◇ ◆ If you want to party, Shiretoko fishing ground! ◆ ◇ ◆
◆ Convenient location ♪ Enjoy your party at leisure!
◆ Up to 40 people OK! Enjoy your private room seating without worrying about the surroundings Recommend your reservation!
◆ Food of Hokkaido boasting of our shop ★ Reach from Hokkaido every day, use plenty of fresh seafood and vegetables!
◆ Fulfilling lineup! All kinds of drinks available! Offer a variety of distilled spirits, sake, cocktails and so on!
◆ Deal coupons ◎ Lots of deals including discounts on course prices! Do not miss the coupon page !!!
▼ Course content ▼
【First issue】 Hokkai with seasoned butter squid
【Salad】 Soya sun and corn seasonal vegetable salad
【Buying】 Bonito Tataki ginger soy sauce
【Grilled dishes】 Salt of salmon made in Hokkaido
【Steamed】 Duck's cold steamed loin with new onion
【Meal】 Shrimp rice
【Sweet taste】 Seasonal bite dessert
· Transportation due to the weather · Depending on the purchase situation, the course content may be partially changed.Please note
· Fridays · Saturdays · Sundays · holidays are not available course
The limit time of the course is 120 minutes.
The last order of all-you-can-drink is 30 minutes ago.
All-you-can-drink menu
·beer
· Clear Asahi
·Highball
· Angle High Ball · Jim Beam High Ball (Plain · Coca · Cola · Ginger Ale · Orange · Grapefruit · Giant Peak · Yuzu · Peach · Sequencer · Lychee · White · Cassis)
· Purple! Sour
· Purple! Lemon Sour
· Chu-hi
· Mango · Calpis · Oolong · Giant Peak · Lime · Lychee · Tomato · Lemon · Pomegranate · Sequercer
·wine
· Red wine · White wine · Wine sour base red punch
·Cocktail
· Bulldog · Screwdriver · Moscommeure · Kiel · Operator · Splitzer · Carimocho · Cassis Orange · Cassis Soda · Cassis Oolong · Cassis Greif · Lychee Orange · Lychee Grape · Raischi Soda · Fuzzy Neeble · Fuzzy Grape · Peach Fizz · Reggae Punch
· Original cocktail
· Crocodile · Japonail · Diesel · Shandyugaf · Cassisvia · Double Cultured
· Shochu
· 【Potato】 Amazing · Wanko 【Wheat】 Sugarugin · Nanko (Rock · Water · Hot Water · Oolong)
·Plum wine
· Yamato beautiful · Yuzu plum wine (rock · water split · hot water split · soda split)
·Sake
· Sake of sake · incense fountain Goldprint (cold wine · hot spring)
· Mocktail (non alcoholic cocktail)
· Cassis cook · Orange coke · White ginger · Virgin breeze · Cork ginger · lime coke · gureful coke · yuzu ginger · mango ginger · virgin mojito · zucchoku · cassis ale · orange ginger
· Mocktail (non alcoholic cocktail)
· Royal Orange · Cassis Valencia · Cupid · Armani · Ginger Ale Tea · Shirley Temple · Gref Squash · Orange Soda · Saratoga Cooler · Royal Grefle · Grenadine Calpis · Chinese Tea Soda
·Soft drink
· Orange · Coca Cola · Oolong Tea · Grapefruit · Ginger Ale · Calpis
· ★ Option ★
· Ashi Super Dry All you can eat at plus 300 yen ※ Asahi Super Dry · Hokkaido Sake · Hokkaido Shochu as plus 800 yen as well
· Hokkaido Japanese sake
· Roger / Mother of Pearl DRY
· Hokkaido distilled spirit
· Forged Tan (Shiso Shochu)
2018/10/25 update